---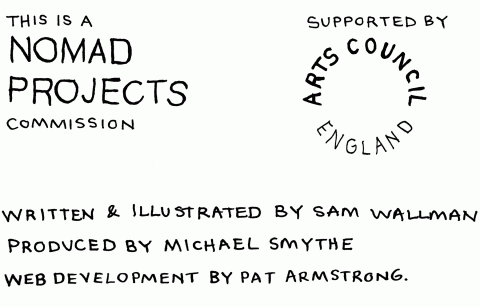 'So Below' is a graphic essay by cartoonist and journalist Sam Wallman. Exploring the idea of land ownership, Wallmam melds the political with the poetic, connecting both historic and contemporary manifestations of territorialism and dominion. Wallman's idiosyncratic artwork critiques the notions of private property, land as commodity, national borders, exclusion zones, and the everyday resistance to these ideas from Indigenous people, refugees, the homeless, grassroots communities, animals and plants.
Sam Wallman's work has been published by the Australian Broadcasting Corporation, The Guardian, Overland, Internazionale and Dude Transzine. In 2014, he was nominated for a Walkley journalism award, and was the recipient of the Media Human Rights Award for his collaborative piece 'At Work In Our Detention Centres: A Guard's Story'.
Recent publications include 'Brick by Brick: Is This Europe?', 'Seed Water', 'In Our Wildest Schemes', and 'Liverpool Boys'.
Nomad Projects is an independent commissioning foundation that provides support for contemporary artists to develop socially relevant work within the public realm. We achieve this through cross-disciplinary collaboration, experimentation and action-based research.
There is no fixed period for a 'commission' to be realised, allowing artists to develop progressive and original contemporary art at a pace determined by the specific nature of each project.
Current projects include Urban Mind — a research project investigating the relationship between urban landscape and wellbeing, in collaboration with landscape architects J & L Gibbons and the Institute of Psychiatry, Psychology & Neuroscience at Kings College London; Phytology — a multi-disciplinary project involving the transformation of a WWII bomb-site into an urban physic garden and cultural institute.
Past work includes the award-winning film series Ourhouse written and directed by visual artist Nathaniel Mellors, blending aspects of TV drama, absurdist theatre and science fiction to make pointed observations about language and power structures; documentary film Vision Quest by British performance artist Marcus Coates — exploring the impact of urban gentrification upon working-class communities; and The Memory of W.T Stead, an experimental live sound installation by Cassie Yukawa and Lundhal & Seitl, specifically developed for the Steinway & Son's factory and showroom in London.